Ei-Fußball-Kissen – Egg-Football-Pillow
|
Ich habe selten einen konkreten Plan für ein Projekt. Ich suche Stoffe aus, fange an zu nähen und schaue Schritt für Schritt wo die Reise hingeht. Pläne werden verworfen, Stoffe ausgetauscht. So kommt es, dass dieses Kissen irgendwie an einen Fußball oder ein gekochtes Ei erinnert ;) Ich mag die Farben und das Quilting aber sehr.
I seldom have a specific plan for a project. I select fabrics, start to sew and see step by step what the result will look like. Plans get discarded, fabrics exchanged. So it happens that this pillow looks like an egg or football ;) I like the colours and quilting.
Binding ist Crosshatch in Coffee.
Binding is Crosshatch in Coffee.
Die Rückseite ist aus Resten zusammengesetzt.
The backing is pieced from left-overs.
Stoffe/Fabrics :
Millie's Closet – Dots in Yellow
Millie's Closet – Closet Coat in Yellow
Kona Cotton School Bus
Kona Cotton Papaya
Kona Cotton Corn Yellow
Kona Cotton Cardinal
Kona Cotton Canary
Timeless Treasures Sketch Crosshatch in Coffee
Mit diesen Stoffen werde ich jetzt noch ein zweites Kissen nähen. Vlt. nochmal Drunkards Path? Mal schauen ;)
There will be a second pillow with this fabrics. Maybe again Drunkards Path? We'll see ;)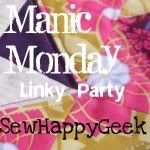 Ciao
Susanne